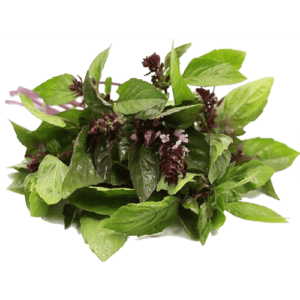 Thai Basil
2 SeedPlugs
Description
Thai basil is a herb boasting highly aromatic, glossy green leaves rich of licorice basil aroma. As an added bonus, it is late to produce flowers, which often make basil develop a bitter taste. This tropical variety of sweet basil provides the unusual basil flavor present in many Thai dishes that it has come to be identified as "Thai basil," even though the Vietnamese and Laotians also use lots of it in their cuisine

Thai basil is a herb boasting highly aromatic, glossy green leaves rich of licorice basil aroma. As an added bonus, it is late to produce flowers, which often make basil develop a bitter taste. A refreshing tea is made from the leaves. The seed can be eaten on its own or added to bread dough as a flavouring. When soaked in water it becomes mucilaginous and can be made into a refreshing beverage called 'sherbet tokhum' in the Mediterranean.
CityCrop does not compromise with the quality of its seeds, an essential part of the success of the CityCrop. Our seeds are strictly non-GMO and have been tested thoroughly at CityCrop and are produced as much locally as possible, respecting international restrictions on the trade of seeds.
Our smart seed plugs
In CityCrop our experts have created these unique seed plugs in order to give in your plants the best growth performance with non-GMO seeds.
It makes sure plants have perfect pH level and get the optimal configuration of water, oxygen, and nutrients.
The plugs are made of natural, renewable materials, and contain no pesticides, fungicides, hormones, or other harmful substances.